IPL 2017, KKR vs GL: Match highlights, as it happened in Rajkot
Chris Lynn and Gautam Gambhir blew away the Gujarat Lions bowling attack.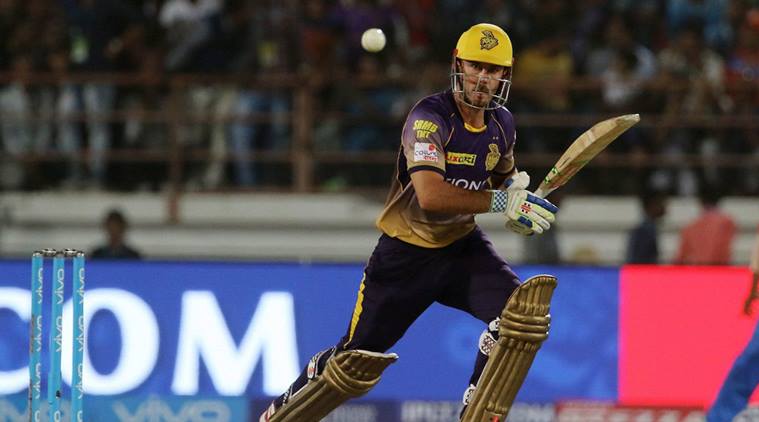 WATCH HIGHLIGHTS
Chrys Lynn and Gautam Gambhir ran riot over Gujarat Lions. (Source: PTI)
It turned out to be an absolute carnage as Gujarat Lions, depending upon their pool of domestic bowlers were blown away by Gautam Gambhir and Chris Lynn. The latter got to his 50 in just 19 balls. Gambhir started out on a slower note but caught up with his partner. Lynn finished the match with 93 off just 41 balls while Gambhir ended with 76 off 48.
GL vs KKR: Match Highlights
2254 hrs IST: And that's that! KKR win by 10 wickets.
2244 hrs IST: Chrys Lynn dropped by Brendon McCullum and that has bounced away from his hands for six! A rare misjudgement from McCullum and that has brought KKR closer to victory.
2240 hrs IST: 150 up for Kolkata Knight Riders without the loss of a single wicket. This is an absolute carnage. Gujarat depended on their pool of domestic bowlers and it has just not clicked for them as Gambhir and Lynn are taking them for a ride.
2234 hrs IST: KKR are running away with the match as both Gambhir and Lynn continue to deal in boundaries. Both are unbeaten on 60
2228 hrs IST: FIFTY up for Gautam Gambhir. KKR inch closer to a thumping win as they reach 116/0 at the end of the 10th over
2221 hrs IST: 100 up for KKR in the eighth over of the chase. This is the fourth fastest team hundred in the Indian Premier League
2220 hrs IST: Another change as Raina replaces Kaushik with Shadab Jakati. They need a wicket else it will be over before any one expected
2219 hrs IST: 6 4 * 6 6 1 – Lynn hits Smith for 23 in the over, brings up his FIFTY off only 19 balls. KKR dominating the chase, 96/0 after seven
2217 hrs IST: Dwayne Smith into the attack and Lynn says hello with a six and a four. KKR are in a hurry. Wasting no time whatsoever in the chase. Skipper Raina wears a worried look as nothing going the hosts way at the moment
2215 hrs IST: Gambhir hits young Kaushik for four boundaries, 20 coming off the last over of the powerplay. KKR cruising at 73/0. Gujarat Lions desperately need a wicket now
2208 hrs IST: Gambhir gets the front leg out of the way, swings and gets a boundary. FIFTY up for KKR in the fifth over of the chase
2203 hrs IST: Early spin! Shivil Kaushik into the attack now. He has a very unusual action, but concedes a boundary first ball. A long hop and Gambhir had all the time to help it to the ropes
2200 hrs IST: SIX! Lynn gets hold of that one and deposits it way back into the stands. Massive, massive, hit. Could be the biggest in the tournament so far
2157 hrs IST: Ball coming nicely on to the bat, and Gambhir is enjoying hitting through the line. Hits Manpreet Gony for a boundary first ball. KKR move to 24/0 in the third
2153 hrs IST: Lynn is doing the job for KKR. He goes after Kulkarni now, and gets a maximum from that one. Plenty of bottom hand involved there
2152 hrs IST: Swing bowlers from both ends as Kulkarni introduced from the other end
2151 hrs IST: Lynn slogs, and gets a boundary off the last ball of the opening over. This looks like the plan for Lynn. KKR 7/0
2150 hrs IST: KKR promote Chris Lynn up the order, he will open with Gautam Gambhir. Praveen Kumar with the new ball for Gujarat Lions. The visitors need a strong start in the chase
2130 hrs IST: Raina ends the innings with a boundary, KKR post 183/4. Raina remains unbeaten on 68. The skipper leading the show from the front with a brisk unbeaten fifty
2126 hrs IST: WICKET! Karthik pulls the Boult short delivery but finds Suryakumar Yadav in the deep. Out after scoring a 25-ball 47. Gujarat 179/4
2125 hrs IST: Improvisation now! Karthik switches and reverse-scoops Boult over short third-man for another boundary. Smart batting by the right-hander
2124 hrs IST: Karthik again picks the slower one from Boult and hits it inside-out over covers for another boundary, moves into the 40s with that hit
2122 hrs IST: Raina joins the act now as he ends the over with a boundary. 16 coming off the 19th. Gujarat move to 169/3, one to play
2120 hrs IST: BANG! Karthik hits Woakes for a six and follows it up with a boundary. Quality batting by the right-hander. He is picking the length, variation early in the middle. Moves to 39 off 21 balls
2116 hrs IST: Karthik hits one powerfully down the ground to end the over with a boundary, 12 coming off that one. Gujarat 153/3 after 18 overs
2113 hrs IST: Gujarat need a massive push in the final three overs. Not enough runs on the board. With wickets in hand, they must push for something in excess of 175
2109 hr IST: 29th IPL half century for Suresh Raina. Brings it with a single off Piyush Chawla. Raina rides his luck two balls later as he is dropped by Yusuf Pathan.
2102 hrs IST: Raina is inching closer to his half-century and will look to shift gears in the last five overs now. Anything less than 175 won't help Gujarat. It's a chasing ground and they need a big total
2056 hrs IST: For consecutive deliveries now, Raina goes after Chawla and it falls in no man's land. The left-hander is riding some luck today
2054 hrs IST: WOW! Boult makes an athletic move near the ropes to deny Raina a six. The left-hander charged down the track, went ahead with the big hit but fails to clear the fielder in the deep. Crucial runs saved by the seamer
2048 hrs IST: Raina use the pace of Boult, finds the gap and brings up the 100 for Gujarat Lions in the 12th over of the innings
2044 hrs IST: Dinesh Karthik, who had a brilliant run in the domestic circuit, joins Raina in the middle. He scored a fifty in one of the two matches the two teams played last season
2041 hrs IST: WICKET! Suryakumar Yadav covers good ground in the deep to complete the catch, gets rid of Aaron Finch. Kuldeep strikes again for the KKR. GL 92/3
2035 hrs IST: SIX! Finch in destructive mood as hits Yusuf Pathan for consecutive sixes. He's enjoying hitting the offie with the spin. At the half-way mark, Gujarat are well placed at 91/2
2031 hrs IST: WICKET! Kuldeep traps McCullum in front and breaks the dangerous stand. The right-hander departs after scoring 35, GL 72/2
2030 hrs IST: Raina flicks one fine, brings up the FIFTY-run partnership with McCullum. Gujarat Lions in command, 72/1 after eight overs
2026 hrs IST: SIX! Gives Kuldeep the charge on this occasion and McCullum hits one out of the park for a maximum. 12 coming off the chinaman's first over
2025 hrs IST: After four tight deliveries, Kuldeep bowls a loosener and McCullum punishes it with ease. Quality batting, Baz time in Rajkot
2023 hrs IST: Powerplay over. It's Kuldeep Yadav into the attack. He was very impressive during his Test debut in the Dharamsala Test against Australia
2021 hrs IST: DROPPED! Woakes bangs in short, Raina goes for the big pull, doesn't make good connection but survives. Kuldeep Yadav covered good ground to get to the ball but couldn't hold on to what would have been a spectacular catch
2019 hrs IST: Seeing Raina make the early move for room, Woakes cramps him for space but the left-hander makes the adjustment and finds the vacant are on the leg-side for another boundary. FIFTY now up for Gujarat Lions inside the powerplay
2018 hrs IST: Woakes into the attack and concedes a boundary first ball. Raina gets the boundary early in his innings
2014 hrs IST: Fast hands and McCullum gets another boundary. He means business today as the right-hander continues to deal in boundaries. Follows it up with another one as Narine pitches it short, giving McCullum time to pull it away. GL 40/1 after five
2012 hrs IST: SIX! McCullum slogs and hits Chawla all the way for a maximum. It wasn't a bad delivery but fearless hit by the former New Zealand skipper
2011 hrs IST: Suresh Raina joins Brendon McCullum in the middle. The hosts now need a stand to steady proceedings in the middle
2009 hrs IST: WICKET! Roy miscues the half-tracker, manages a top-edge and Yusuf Pathan completes the high catch. The ball was there to be hit but Roy went very hard at that one. Gujarat Lions 22/1
2007 hrs IST: Just enough room on offer and McCullum cuts it away for a boundary. Kuldeep Yadav should have done better there. Made a mess and conceded the boundary
2006 hrs IST: More spin as Sunil Narine comes into bowl. Just the one over for Boult. This is an aggressive move by KKR as they look for early wickets
2005 hrs IST: Eight coming off Chawla's first. Gujarat Lions 16/0 at the end of the second over
2004 hrs IST: Roy improvises and uses the reverse-swep. That's what he brings to the table. He's a 360 player and can hit any part of the park
2003 hrs IST: As expected, Gambhir introduces spin early. Two right-handers in the middle and he tosses the ball to leg-spinner Piyush Chawla
2001 hrs IST: Plenty of mini battles on the cards today
2000 hrs IST: Boult changes the angle, comes around the wicket but it doesn't change Roy's plan. He plays it in the gap on the off-side and gets the second boundary of the over. GL 8/0 after one
1958 hrs IST: In search of swing, Boult pitches one up but Roy hits it straight and opens the scoring with a boundary
1955 hrs IST: Brendon McCullum and Jason Roy the two openers for Gujarat Lions; Trent Boult to make first use of the new ball for Kolkata Knight Riders
1940 hrs IST: The team sheets are out. Here's a look at the two XIs – KKR: Gambhir, Uthappa, Pandey, Lynn, Pathan, Suryakumar, Woakes, Chawla, Yadav, Narine, Boult. GL: McCullum, Smith, Roy, Raina, Finch, Karthik, Gony, Praveen, Jakati, Kulkarni, Kaushik
1938 hrs IST: McCullum, Roy, Finch, Smith the four overseas players for Gujarat Lions. No overseas player in the bowling department
1936 hrs IST: Sunil Gavaskar feels the pitch wears a deceptive look. Different from the one used for Tests
1930 hrs IST: Gambhir wins the toss and KKR will field first against Gujarat Lions in Rajkot. Lynn, Boult, Narine and Woakes the four overseas players for the visitors. Gujarat include four oversas players in their batting department
1926 hrs IST: Both teams have strong openers. It's Gambhir-Uthappa for KKR and D Smith-McCullum for the Lions. Plenty of runs between the two pairs
1924 hrs IST: Four times out of five, team batting second has managed to win the match at Rajkot. The first innings average total is just about 156
1920 hrs IST: We are some time away from the toss now. In first two matches, we have seen results from both possibilities. While team batting first won the opener, the team batting second won the next match. But, on both the occasions captains winning the toss elected to field first
1914 hrs IST: Talking about spinners, there are plenty in KKR's ranks. They have Piyush Chawla, Kuldeep Yadav, Hogg, Sunil Narine. The slow bowlers have always played a crucial role in KKR's campaign and this year will be no different
1910 hrs IST: Unsold in the auction, Imran Tahir turned things around for Rising Pune Supergiant with 3/28 against Mumbai on Thursday. He was certainly the pick of the bowlers from the two teams
1906 hrs IST: The second game was a high-scoring thriller. It saw Steve Smith hit an unbeaten 84, and also saw a brilliant hand by Hardik Pandya as the all-rounder hit Ashoke Dinda for four sixes and a boundary in an over
1900 hrs IST: The first two games of IPL 2017 turned out to be high scoring ones. All four teams have managed to cross the 170-run mark and we have already seen a 200+ in the season opener when SRH smashed 207
1850 hrs IST: Home team captain Suresh Raina takes the lap with the anthem playing in the backdrop. It's an important season for Raina. Joining him in the middle is Gambhir. Again, an intense look on his face as he approaches the stage with "Korbo Lorbo Jeetbo Re" in the background
1845 hrs IST: In focus would be the two skippers Gambhir and Suresh Raina. Both are out of favour at the moment and the latter was dropped from the central contracts recently. With Champions Trophy approaching, they would want a stellar season with the bat
1840 hrs IST: Gujarat, without the services of Ravindra Jadeja, would hope to continue from where they left last season – a dream opening season. They remained table-toppers for most of the League and dominated in all departments of the game
IPL 2017: A look At Captains Of The Eight Teams
1835 hrs IST: Both Gujarat and Kolkata had a decent run last year. KKR, under Gautam Gambhir, are one of the teams to watch out for. The squad wears a very balanced look and they have quality spinners, and handy all-rounders in their ranks
1830 hrs IST: The opening ceremony is underway in Rajkot. And, starts with the performance of Bhoomi Trivedi and there are dancers doing some "dandiya in the foreground. This is the third out of the eighth opening ceremony for the tenth edition of the Indian Premier League